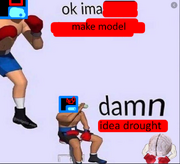 "Little bit of a clown"
-Palseicanbecutetoo
A roblox modeler dude who has a ton of ideas for databrawl. Due to being unable to take screenshots, you can go to my showcase here

Helpmeimthekiller's Page Creation Template
haha glitch is gone this text is irrelevant now!!
mal#0058 for those who want my discord
My favorite pages
Space for FarmerBill.
farmer bill add whatever you want here asdasd
ok :)
Space for Vedali
ve add whatever
maybe
Space for eyes
General Questions Area
Ask questions lol. Replies will be in bold. Please put your user at the end / start of your question. Thanks!
You copied FURIPPI didnt you?- Vedali
TOTALLY NOT Bobux? - KitsuneNebula
Yeah sure totally. - Vedali replying to helpme
Is there any data-food, other than data-food made out of hearts? - handsomeboy23344
MC DOD
If you befriended a virus host, who would it be? - Blue
HAHA FUNNY JOKE LIKE I WOULD EVER BE FRIENDS WITH A VIRUS
aside from viefrie ofc
What kind of malware were you before you became a host? - mrmissingno
ME WAS STINKY BY- I MEAN ME WAS A COOL BODIER I GUESS I DO NOT REMEMBER
hmMmMmMmMm... - mrmissingno replying
Hi! Can I make a bot? -Lili
si.
Permission to explode
Balance your outlines and make good wireframes or you know what will happen - Vedali

are you is is you is like databrawl - vyrustheleader
Host has a stroke and dies.

caught in 4k simping a virus, what will you do
I didn't you POOB
explain this nerd
No
simp.
Shut up I will ban you for undefined
i have some final, last words. YOU'RE A SIMP
Says you I've caught you in 4k almost 2094821049810 times smhhhh
where's my space on this page :cry: - idiot named metal
Hell.
is is you doo doo feces or are are you epic pog champ gamer guy? - Error40Z