PLEASE DO NOT ASK TO BE ON THIS PAGE.
Databrawl Fan Ideas Timeline
Welcome to the Databrawl Fan Ideas Timeline page. On this page, well, the timeline of the Databrawl Fan Ideas is here.

Wanna know how the wiki grew? Find out on this page!
October 27, 2019
This same exact day, the wiki was made. Most (notable) users on this wiki, didn't join at this point, so it is unknown what happened during this time.
November 2019
Not much is known about what happened in the wiki at this time as the wiki was mostly empty.
December 2019
Some of the first ever wiki pages were made. Helpmeimthekiller joined on this month along with MISSINGNOVEMBER2.
The very first page on the wiki, Valentino, was created by FarmerBill.
Achievements were added on December 9.
Vedali also joined this month, being exact at the 11th day of December.
Glitch had created multiple alts of MalwareHost's character, him being known back then as Helpmeimthekiller. This was known as the Host era.
After Glitch was banned for adding lore to people's page without permission, so began the Alt Crisis where Glitch kept joining the wiki on different alts, each one being banned.
On December 29, Live Chat was enabled.
January 2020
Palacio Bros joined the wiki, a user known for Databrawl Heroes.
February 2020
Valentines day occurred, while MISSINGNOVEMBER2 messaged a lot of people in the wiki with valentines day gifts.
Palseicanbecutetoo joined as well, a major contributor known for the Fine order.
March 2020
GL1TCH 7896 was banned, and this was about the time where the Alt Crisis finally died down. The wiki had entered the Fine Order era.
April 2020
April fools day occurred, while everyone made joke characters which may/may not be based off of old OCs.
May 2020
On May 29, the notable admin Dr. DreyJaden joined the wiki. Mrmissingno10 also joined the wiki on that day,
June 2020
A Hall of Fame and well known page in the community, Databrawl Heroes, was created, making a mark in history.
GL1TCH's global block ended on June 27, 2020.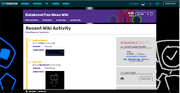 July 2020
The First and Fourth of July occurred.
Kannon08 joined the wiki on July 17, 2020, and Marycrackers joined the wiki on July 28, 2020.
August 2020
On August 3, three users on the wiki, Dr. DreyJaden, Palseicanbecutetoo and TruffleBean999 were all promoted to Content Moderator, admin and Discussions Moderator, respectively. Dr. DreyJaden later got promoted to admin status in order to improve the wiki even more. This day was nicknamed "Promotion Day". And around an hour later, Palacio Bros was promoted to Content Moderator.
Additionally, the wiki went on a revamp process on this day with most of the revamping made by Dr. DreyJaden.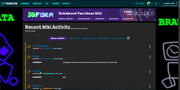 Due to the major improvements made by Dr. DreyJaden, the wiki entered the DreyJaden era.
September 2020
On September 5, Dr. DreyJaden got promoted to a bureaucrat, making him the very first bureaucrat (not counting FarmerBill).
On September 25, Kannon08 was promoted to a Content Moderator.
October 2020
During October, the wiki's first ever anniversary commenced. To celebrate, an rp was hosted in Live Chat (before being removed a month later). This was also the first time the wiki was changed to fit the corresponding theme of the event, with this one being for the anniversary.
Halloween also happened around this time, not much happened around Halloween, as most users were busy spending time with family, however, the wiki's navigation bar background was changed for Halloween, the second time this happened.
November 2020
On November 2, UCP rolled out on the wiki, causing some bugs on the wiki, including the Live Chat removal.
December 2020
Christmas came early, GL1TCH (the Clown) was permanantly banned.
January 2021
A long awaited page, Beluga, FarmerBill's OC was finally added to the wiki.
Marycrackers was promoted into Content Moderator.
February 2021
GL1TCH has his final discussion with FarmerBill in the Espacio Mining wiki, in which GL1TCH vows to leave the wiki alone for good.
April 2021
April Fools happened, the wiki was renamed to "Databrawl Leaks Wiki" and people were allowed to vandalize their own pages and make joke pages for that day.
A few days after, a rant was posted concerning the quality of wiki pages, with people being nervous that their pages would be taken down for lacks of quality. People would however also begin making their own rants, which in a way conflicts the paranoia the first rant had made, because these rants displayed rising confidence in some.
There was also a huge surge in the wiki of users making games after this happened, although it is unknown whether it is coincidental with the rants or not.
June 2021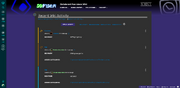 A new FANDOM layout was being rolled out, FandomDesktop, which then caused Drey to restyle the wiki on the FandomDesktop client.